It's easy to get similar things confused: alligators and crocodiles, jam and jelly, they're and their…the list goes on.
There's one mixup, however, that the marketing world can't afford to keep getting wrong: native advertising vs. sponsored content. The two strategies have many similarities, yes, but it's important to understand their unique functions and benefits. This way, brands can make the right choices for their goals and budgets.
Especially now that competition for attention online is heating up, marketers are looking for alternatives to traditional display ads to help them get in front of target audiences and make an impact. And they're turning to native advertising and sponsored content as a result.
So, what's the true difference between native advertising and sponsored content, what does each have to offer, and how can you pick the best strategy for your brand?
Let's take a look.
What is native advertising?
Native advertising is the process of creating and delivering ads that match their surrounding content and context. While native ads blend into their platforms, they should always have a disclaimer such as "Paid for by" or "Promoted by."
Native ads can be promoted social media posts, paid search ads, or article recommendation widgets. They can also be placed seamlessly in email newsletter templates, as in this weekly roundup from BroadwayWorld:
What are the biggest benefits of native ads?
Compared to traditional display ads, native ads offer many advantages, including:
Building intuitive user experiences. Unlike banner ads or pop-up ads, native ads don't disrupt the user experience, making them easier to consume and enjoy.
Reaching target audiences. With a programmatic marketing platform, you can distribute native ads to specific audience segments at scale and across platforms.
Increasing audience trust. Brands can win back audience trust by delivering personalized native ads that match customers' interests and behaviors.
E-commerce brands, in particular, have a major opportunity to run native ads in email newsletters. As e-commerce spending continues to grow, they can use this direct-to-consumer channel to diversify their spend, expand their reach, and engage new audiences.
What is sponsored content?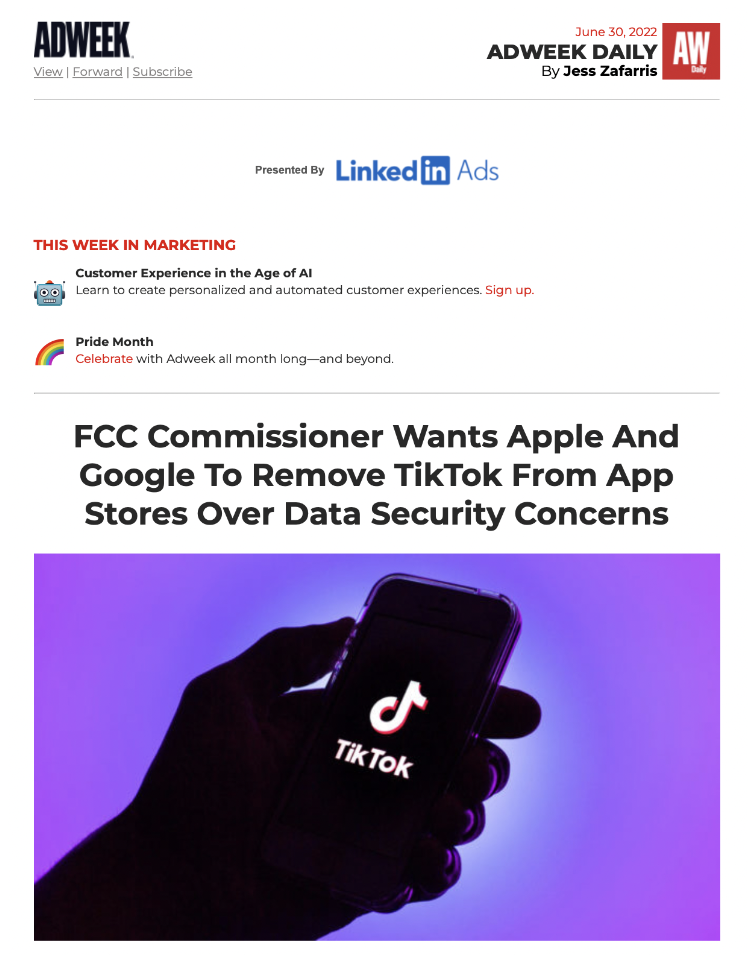 Sponsored content is a piece of media, such as an article or video, that's paid for by an advertiser but delivered by another publisher or platform. Like native ads, sponsored posts look just like their surrounding organic content, but they have a necessary disclaimer.
Forbes, for example, runs its BrandVoice platform to create editorial content in partnership with advertisers. Meanwhile, publishers like The New York Times launch emails that are entirely sponsored by brands, like this one from LinkedIn Ads:
What are the biggest benefits of sponsored content?
As a form of paid media, sponsored content offers many benefits to advertisers, such as:
Increasing awareness and credibility. By creating content alongside trusted and respected publishers, advertisers can build brand perception among their target audiences.
Educating and informing consumers. Sponsored posts can be presented as long-form articles or videos, giving brands an opportunity to create immersive content experiences.
Tapping into built-in audiences. Building sponsored content with a publishing partner or influencer allows brands to get in front of ready-made communities of readers and viewers.
What's the difference between native ads and sponsored content?
It should be easy to see now that, while native advertising and sponsored content are similar, they have key distinctions that can influence how and why marketers use them.
Specifically, the differences between native ads and sponsored content include:
Formatting and placement. Native ads can take many forms, including email ads, social media posts, recommendation widgets, and search results. Sponsored content, on the other hand, is often presented in the form of an article, blog post, or video.
Collaboration. Brands can create and launch native ads on their own or with the help of a marketing automation platform, inserting their campaigns in ready-made content. Sponsored content, however, has to be created from scratch, often in close collaboration with a publisher or media platform.
Scale. Native ads can be easier to distribute at scale, such as through a programmatic ad platform. Meanwhile sponsored content can take longer to create and launch, since it's often built through a one-on-one partnership with a publisher or influencer. As such, native advertisements can also be more affordable than sponsored content.
Native ads vs. sponsored content: which should you choose?
Now for the toughest question: which strategy makes most sense for your brand? The truth is that there's no clear-cut answer. The choice of native advertisements vs. sponsored content will depend on your campaign goals, audience behaviors, and creative resources.
If you want to create a more immersive, long-form experience for readers and viewers, you might dive into sponsored content. But if you want to launch a range of ads at scale across platforms, you might start with native advertising. Also, remember that these aren't your only two options. Especially on a flexible channel like email, you can choose from five different types of ad formats and a range of publisher emails.
Whichever format you choose, Jeeng is here to help every step of the way — whether you want to reach new customers via email, publisher websites, push notifications, or news reader apps.
Ready to launch your own attention-grabbing ad campaigns? Contact us to get started.